This is where my front page notes go if there's no other home for them.
---
Monster Lists
09.11.04 - updated 09.13.04
Here's the list of monsters that I submitted to GameFAQs. This list is from playing Rudra several times through all four scenarios. If you've seen a monster that I've overlooked, please contact me with its name and location. If you can provide a savestate as well I'd be quite happy. I'm also providing the Excel spreadsheet archived in a zip file that has the data entered. Click the links in the menu to go to the HTMLized version of the list. I've now added a clickable link to view images of the various monsters.


---
zSNES Savestates
08.29.04 - updated 09.12.04
I've archived my savestates from each scenario. You can easily skip from one day to the next with my saved games. I did cheat in these games; you'll have access to all items as well as pumped levels on some of the days.


---
Favorite Part
09.05.04
Call me silly, call me sentimental; but my favorite part is when the butterflies purify the air. If you watch this scene from Surlent's scenario you'll see what I'm talking about. In the Port Town Oriab Surlent is breathing polluted, choking air; Riza has successfully freed the butterflies and we witness them in flight over the world.

I wanted to make a GIF animation of this scene; but the size was monstrous and I didn't want to downgrade the quality. You'll have to load the archived savestate in zSNES to watch it.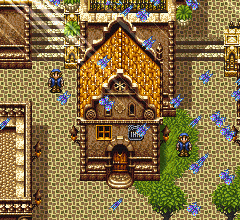 ---
Danan's Eyes Wide Shut!
08.28.04
I get a kick out of small things in a game. In the screenshot below you can see that this Danan sleeps with his eyes open. I know...simple minds, simple pleasures.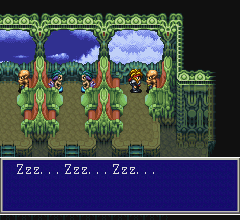 ---
Prison in Cryunne Castle
08.28.04
I've been tinkering with going into areas that I shouldn't and I created this screenshot after the scripted event at the beginning of the game. You can see that Sion is actually in the prison with the others; unfortunately, nothing is attained by doing this. The sprites don't even block passage and you can walk through them. Of course, they don't speak anymore after the scripted events as well.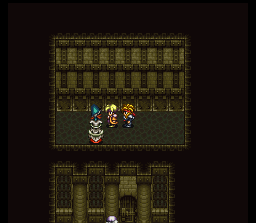 ---
Item Lists
08.28.04
I don't know if anyone else is interested in the nitty-gritty details like I am; but, if someone is, I've posted the Excel spreadsheet archived in a zip file (26k) with all items listed within it. I've also created an online version of the item list that you can browse via the menu to the left.
---
Complete Item List
08.22.04
Here's the comprehensive Item List (28k) with codes to enter in zSNES. I've included every item found in the game! This is the listing that I sent to GameFaqs, take a gander and enjoy. I'll be creating a prettier graphical page to store the data later.